It's time to secure your
beehives and prevent costly apiary thefts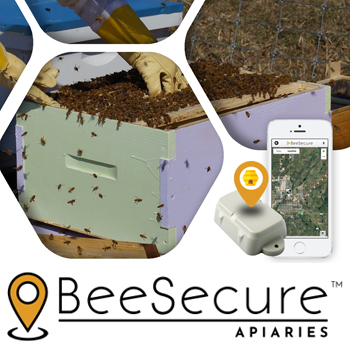 Beehive theft is a costly problem that can result in hundreds of thousands of dollars stolen within minutes.  Our catalyst and original problem was protecting the beehives at the founder's apiary in Canada.  That's how our product got it's name! Three years later, we have a powerful, stable GPS tracker, a feature rich app, and several other devices used to monitor and protect apiary equipment.
The BeeSecure GPS tracker can easily be hidden in brood boxes, in insulated hive lids, on pallets, in bee trucks, or on your expensive forklift.  Use the app to monitor the apiary equipment or bees that are being moved. Add contacts to receive text messages or emails when your beehives move outside of their yards, and only when you schedule notifications.  Create geofences, connect stolen equipment to law enforcement, and get updates when batteries are low.  
Typical beehive installs will last up to 4 years, with daily GPS and temperature updates sent to your app.  Vehicle tracking with active equipment will see battery life still last an amazing 5 to 6 months, on one set of lithium batteries.
HOW MUCH MONEY DO YOU LOSE IN JUST ONE THEFT?  ORDER YOURS TODAY AND SLEEP BETTER AT NIGHT KNOWING YOU ARE PROTECTED.