BeeSecure is the best
way to track and protect
your assets
Powered by a mobile friendly web app.
Buy Now
Learn more
BeeSecure is an award-winning asset tracking solution developed to more intuitively follow your belongings through either our NEW LoRaWAN option, or cellular technology. Perfect for helping reduce rural crime, Rural Municipalities can also deploy our LoRaWAN gateways to allow their constituents to track anything they want via GPS coordinates, flag assets as stolen when they go missing, and then share their data with law enforcement. Our data is stored in Canada and encrypted using 128 bit AES Encryption from start to finish.
Our tracking devices have been tested outdoors in temperatures as low as -40°C with no grid power or wifi connection, and are IP67 rated. Typical battery life on our LoRaWAN tracker is 5-6 years, or 25,000 GPS updates - NO RECHARGING REQUIRED! Monthly fees start as low as $1.99 per month, and include text messaging and email alerts! We have solutions for monitoring other things including temperature (cabins, bins), tank fluid levels, soil moisture, air quality, sound (enforce sound bylaws), and much more - contact us for more information on options for your area. BeeSecure's solutions are currently available for use in Canada or the USA.
BeeSecure is a 100% Saskatchewan owned and operated business, and works closely with rural residents and law enforcement to ensure we meet their needs from a practical point of view.
multi purpose
BeeSecure can work to protect farm equipment, cars, quads, snowmobiles, and boats. Our trackers come in different types for different monitoring needs. Track movement, actions, environmental data, and much more.
Optimum Coverage
BeeSecure was designed with rural areas in mind, but can work wherever our LoRaWAN network is, or where you have cellular coverage. With our LoRaWAN gateways we can cover up to 1960 square kilometers, or over 484,000 acres. With our cellular trackers, you need as little as 1 bar of cell phone strength and your device will provide you with tracking updates.
Easy asset tracking to secure what matters most
Keeping track of everything that you find valuable is tough in this day and age. Everyone is on the go, running from home to work, appointment to appointment, with no time to relax. With all of this going on it's easy to forget that the kids were out on the ATV or your significant other was taking the truck into town. With our tracker and app, you never have to worry about your assets again!
Receive a text message when your assets are on the move. Add yourself as a contact, and optionally family and friends...

Your asset sends event information at predefined intervals to make sure you always know where it is...
Use our free email messaging feature to notify your contacts about events...

Monitor text message usage and active asset trackers to keep your costs down, pay for actual usage!...
View the current location of all of your assets or individually to see where one has been over any period of time...

If things go missing, mark your assets as stolen. If you choose, law enforcement can be notified...
Purchase An
Asset Tracker
Purchase the BeeSecure asset tracker hardware through our online store (NOTE: our NEW LoRaWAN coverage is currently limited, a Gateway may be needed in your area).
Buy yours now!
Setup Your
App Account
Setup your on-line App Account, add your assets, pair each BeeSecure tracker you have to an asset you want to track.
Track Your
Assets
Receive text and email messages when your asset starts to move, follow it wherever coverage is available! Login to your app to track them on mobile, tablet, or desktop.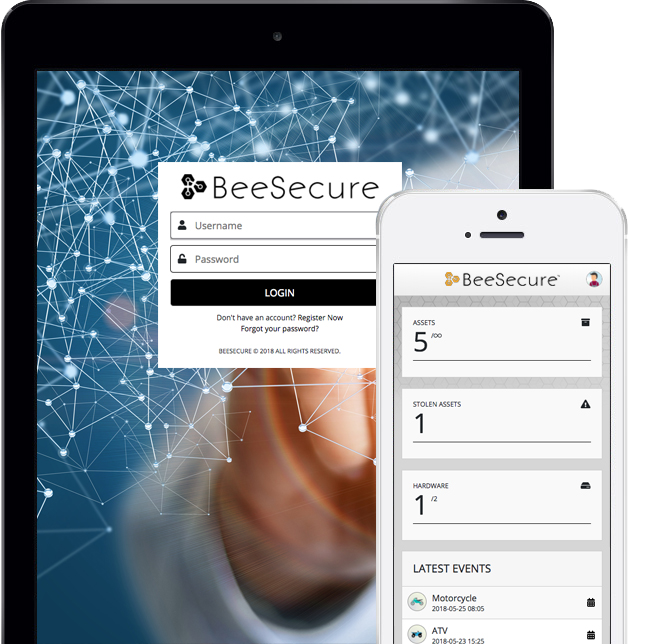 App Included, Any Device
To use our web app there is no software or download required. It is powered by the web and once signed up, you just have to login! Whether mobile phones, tablets, or a desktop, you can access your asset information as long as you can connect to the internet (we do NOT support Internet Explorer, please use Chrome, Safari, Edge, or Firefox).
Our App is available FREE with no monthly cost, you ONLY PAY for your activated devices on our BeeSecure network (cellular or LoRaWAN). Usage fees apply for text messaging, each asset tracker is allowed 100 free text messages per month, and unlimited email notifications. Keep your costs low by using email.
You can manually add assets, asset events, and asset information without a BeeSecure device at anytime FOR FREE to help report events to Law Enforcement.
BeeSecure In-App Pricing
Once BeeSecure hardware is purchased, your next step is creating an account within our app!
In-app charges will start once a device has been paired and will depend on your device type.
LoRaWAN Devices
$1.99

Monthly
30 Day Free Trial
4 To 5 Years Battery Life With Daily Updates
No SIM Card Required
100 Free Text Message Alerts Per Paired Device
Unlimited Email Message Alerts
Cellular Devices
$12.99

Monthly
30 Day Free Trial
3 To 4 Years Battery Life With Daily Updates
SIM Card Included
100 Free Text Message Alerts Per Paired Device
Unlimited Email Message Alerts
What are our customers saying?
BeeSecure has protected my farm truck for a few months now. My wife had taken the truck to town one day while I was napping, and without initially realizing it, I thought it was stolen! It was great to be able to log in to the app, find out where the truck was instantly and have that sigh of relief....

Read more
Contact for more information
BeeSecure is operated and owned by Rivercity Innovations Ltd., headquartered at Innovation Place in Saskatoon, SK, Canada. If you have any questions or would like more information on our product, don't hesitate to reach out via email! Be sure to include your NAME, Phone Number, and area you are calling from so we can better assist you.
Email: hello@beesecure.ca
Subscribe to our newsletter