What we do
locate assets
Keep an eye on your assets
theft recovery
Recover stolen assets
peace of mind
Never have to worry about if your assets are safe
public safety
Avoid potentially dangerous conflict
tracking
Track your asset in real time as it moves
How it works
Simply place our GPS tracker in anything you want to track. It's that simple! View your asset's location at any time from any device.
Movement

activated GPS tracker (operates on any 3G cellular network)

BeeSecure

application for computers and smart phones

Track and recover

any asset affordably

SMS/Email

alerts triggered by movement
Where can you use this?
Trailers and mobile assets
Easy asset tracking to secure what matters most
Keeping track of everything that you find valuable is tough in this day and age. Everyone is on the go, running from home to work, appointment to appointment, with no time to relax. With all of this going on it's easy to forget that the kids were out on the ATV or your significant other was taking the truck into town. With our tracker and app, you never have to worry about your assets again!
Track the real-time location of your asset, or view the current location of all of your assets...

Receive a text message or email notification when your assets are on the move. Add yourself as a contact, and optionally family, friends, or employees...
Your tracker sends information at predefined intervals. Information includes location, speed, direction, and temperature...

Manage and track multiple assets. You can swap your tracker between different assets, and the location history stays with the asset...
Monitor text message usage and active asset trackers to keep your costs down, pay for actual usage!...

If things go missing, mark your assets as stolen. If you choose, law enforcement can be notified...
Purchase An
Asset Tracker
Purchase the BeeSecure asset tracker hardware through our online store.
Buy yours now!
Setup Your
App Account
Setup your on-line
App Account
, add your assets, pair each BeeSecure tracker you have to an asset you want to track. See the
Getting Started
page for instructions
Track Your
Assets
Receive text and email messages when your asset starts to move, follow its real-time location! Login to your app to track them on mobile, tablet, or desktop.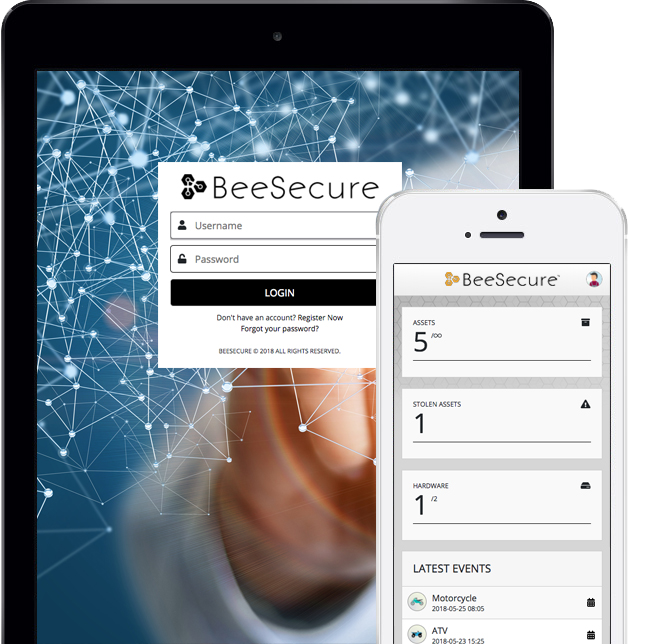 No Download Required
To use our web app there is no software or download required. It is powered by the web and once signed up, you just have to login! Simply navigate to app.beesecure.ca. Whether mobile phones, tablets, or a desktop, you can access your asset information as long as you can connect to the internet (we do NOT support Internet Explorer, please use Chrome, Safari, Edge, or Firefox).
You can manually add assets, asset events, and asset information without a BeeSecure device at anytime FOR FREE to help report events to Law Enforcement (coming soon).
Is our cellular asset tracker right for you?
If not, check out our other options.
BeeSecure In-App Pricing
Once BeeSecure hardware is purchased, your next step is creating an account within our app!
In-app charges will start once a device has been registered. A 30 day free trial starts from the day your account is created.
Cellular Devices
$12.99

Monthly
30 Day Free Trial
3 To 4 Years Battery Life With Daily Updates
SIM Card Included
100 Free Text Message Alerts Per Paired Device
Unlimited Email Message Alerts
What are our customers saying?
BeeSecure has protected my farm truck for a few months now. My wife had taken the truck to town one day while I was napping, and without initially realizing it, I thought it was stolen! It was great to be able to log in to the app, find out where the truck was instantly and have that sigh of relief....

Read more
Contact for more information
BeeSecure is operated and owned by Rivercity Innovations Ltd., headquartered at Innovation Place in Saskatoon, SK, Canada. If you have any questions or would like more information on our product, don't hesitate to reach out via email! Be sure to include your name, phone number, and area you are contacting us from so we can better assist you.
Phone: 306-986-8888
Email: [email protected]
Subscribe to our newsletter